Tuesday, October 31, 2017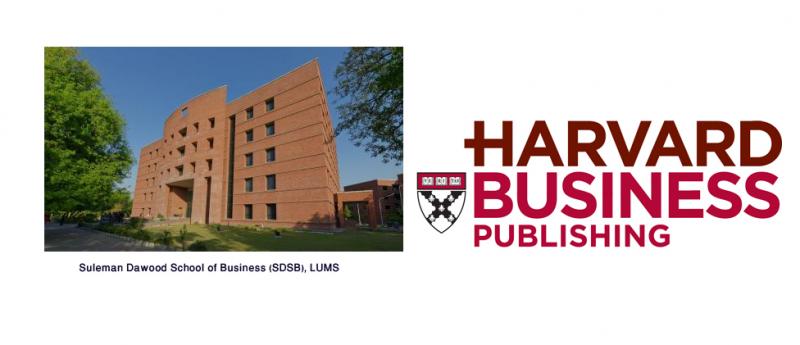 Last year, Harvard Business School Publishing (HBSP) approved the distribution of SDSB-LUMS cases on its online catalogue as a content partner. Selected SDSB cases are now available online through HBSP for educators worldwide. SDSB is the seventh institution in Asia and fourth in South Asia to have its case collection on Harvard. This is an important milestone for the school and will make SDSB cases globally accessible.
Other HBP partners include institutions such as Stanford, Babson, Wharton, IMD and Princeton. This partnership was forged after SDSB cases underwent a long and extensive review process by the Harvard editorial team, and were evaluated for their content, language and format.
This is a major achievement for the Case Research Centre and an incredible accomplishment for the SDSB faculty and LUMS. It will put SDSB cases and the faculty on the international case map, and some of these cases would be taught across the globe.
Jawad Syed, PhD, Academic FCIPD, Dean & Professor of Organisational Behaviour at SDSB, expressing his joy over this achievement said, "I take this opportunity to thank SDSB faculty, Dr. Junaid Ashraf, Dr. Ehsan ul Haque, Dr. Arif Nazir Butt, Dr. Kamran Chatha, Dr. Saad Azmat and other colleagues who supported this initiative. Most importantly, thanks are due to all those faculty members who wrote these high quality cases."
Dr. Syed also said that this partnership is an indication as well as recognition of the importance that LUMS gives to teaching quality, applied scholarship and international partnership.
"The next step is to continue to produce high quality cases of local relevance and international significance on a regular basis, incorporate and use them in our academic and executive programmes, and reduce our reliance on foreign subscriptions," Dr. Syed further elaborated.