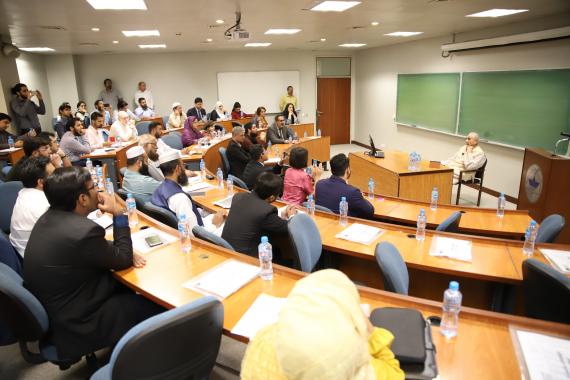 For the first time in Pakistan, the Suleman Dawood School of Business (SDSB) at LUMS, organised an exclusive workshop for educators on the case-based teaching method and the challenges affecting accounting in the digital economy. The workshop was held in collaboration with Chartered Institute of Management Accountants (CIMA) and was inaugurated by Syed Babar Ali, Founding Pro Chancellor LUMS.
Addressing the participants, Syed Babar Ali recalled his exposure to the case method at Harvard Business School, emphasising the exchange of knowledge and ideas among participants to gain valuable insights for problem-solving. He added that these experiences, and the support of Harvard Business School Professors James Austin and Louis Wells, made it possible to establish SDSB as a case method centre for learning. Everything at the school, from faculty hiring to the design and construction of the building was purpose built to support case method teaching.
Speaking at the occasion, Vice Chancellor LUMS, Dr. Arshad Ahmad, remarked that this workshop would help educators at universities around Pakistan build a solid foundation for utilising the case method of teaching. Honorary Dean SDSB, Dr. Alnoor Bhimani informed the audience that the Case Research Unit (CRU) at the Schools has produced over 800 Pakistan specific case studies till date, which has become the cornerstone of the flagship LUMS MBA programme.
Dr. Saad Azmat, Associate Professor SDSB, welcomed participants to the first of its kind training in Pakistan. The workshop was led by Professor Ts. Dr. Saravanan Muthaiyah, Multimedia University, Cyberjaya, Malaysia. The trainers also included Ms. Karen Phang, Associate Director Global Academic Engagement at CIMA; Dr. Bhimani, and SDSB Professor Dr. Syed Zahoor Hassan.
The workshop included four sessions spread over two days. These sessions revolved around identifying and exploring new directions in digital services and the digital economy. A technology-centered approach to finance and accounting was identified as the need of the hour by the speakers. Moreover, global trends in the finance and accounting domain, such as value creation by adding technology into various processes, embedding data science in accounting, virtualisation, and collaborative filtering were also discussed.
The participants experienced firsthand the intricacies that go into teaching and learning from the case method, and prepared to apply it in their classrooms in the future. The workshop ended with a brief evaluation followed by distribution of certificates.